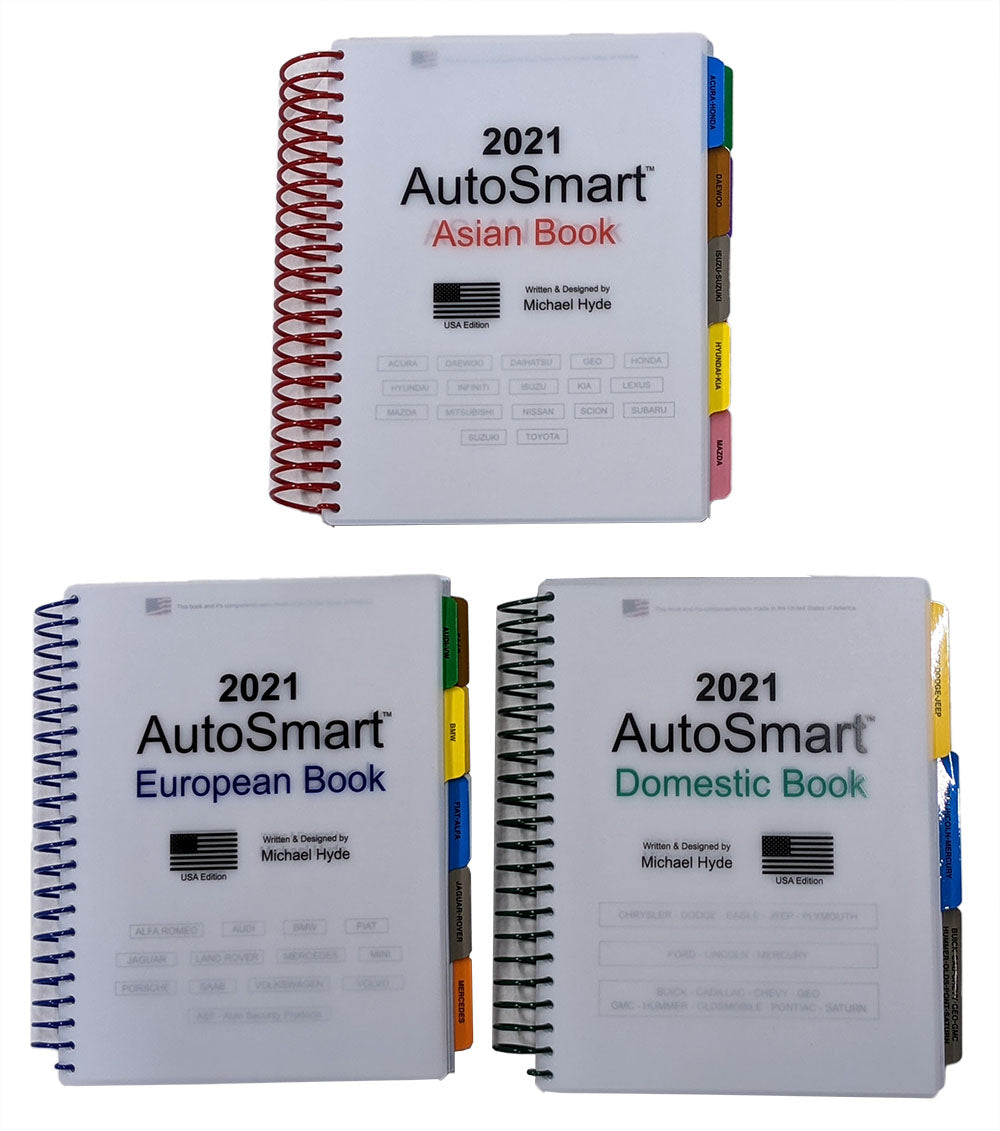 2021 AutoSmart 3 Book Set - Asian, European & Domestic Book Set - In Stock
FYI: There will be no 2023 AutoSmart books.  Due to the paper shortage, the earliest books to be released will be 2024 Books.  FJB
----------------------------------------------------------------------------
2021 AutoSmart 3 Book Set - Asian, European & Domestic books
• Most of you are used to 1 Foreign and 1 Domestic book for a 2 book set.  The Foreign book became too large and I had to split it up.  Now there is an Asian and European books to take the place of the Foreign book.  The 2021 AutoSmart set now is 3 books total.  However, now you can buy the books as a set or individually.  The 3 book set is the best value.
-----------------------------------------------
• In 2019, I completely re-designed the books for a whole new look that combines the features of AutoSmart and the Transponder books. All the info for specific vehicles is found together, no more having to go from section to section. Expanded Transponder & Cloning information. An expanded list of programmers and their applications.
• Updated with the car models and info through 2021. Audi, BMW, and Volkswagen sections greatly expanded. Acura, Honda, Hyundai, KIA, Subaru & Toyota sections also expanded.
• Hundreds of pictures of Remotes, Remote Head Keys, Proximity Fobs, and Keyblanks added to really give you the full picture of what you are dealing with.
• Now even easier to use. Look up the car in the table of contents for that manufacturer and go directly to that section, much faster!
• Once at the specific car section - you will see the Keyblank Application info along with remotes or proximity fobs, their part numbers, and associated FCC info. Next, you will see the Space & Depth info. Followed by the Transponder section with several different cloner types and that is followed by 9 different key programmer brands. The making first key section is there with a tumbler chart. Also, there is an application table for Strattec parts if applicable.
• Hard plastic covers add to the durability and lifespan of the books.
• I know Locksmiths are very "Visual" and now with these new books, it makes it easier to find what you are looking for with ease and speed.
• All the components that make up this book are sourced from small businesses throughout the United States.  We print in-house at our California warehouse.
• This product is restricted to locksmiths and others in the automotive security business. If you are a new customer to us - we will require some type of proof that you are in the automotive security business before we will ship to you.
- Books ship USPS Parcel Select Ground unless you pay for a faster shipping method.