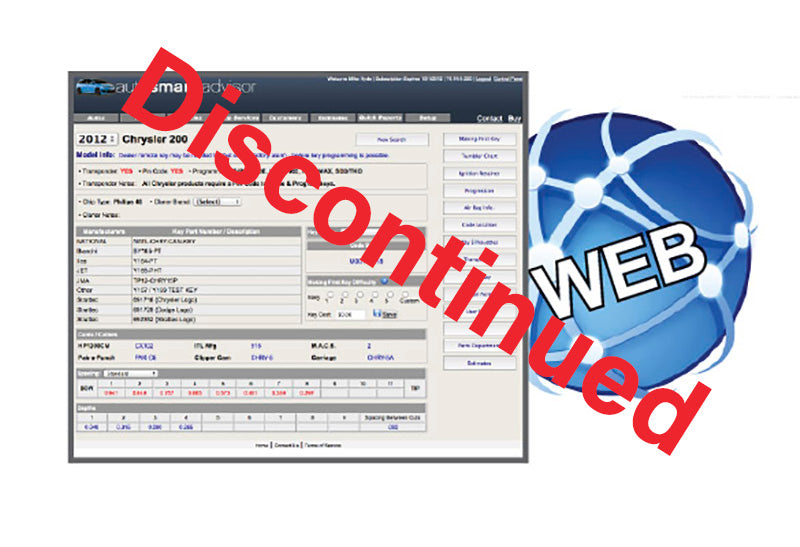 AUTOSMART ADVISOR for the Web - Full Web and Smartphone Version - New or Renewal - MyAutoSmart - Discontinued
Discontinued - Discontinued - Discontinued - Discontinued - Discontinued
This is the full Web version - This version
no
longer includes the MyAutoSmart smartphone app - you must purchase that separately. Due to account sharing this subscription is only offered to customers that regularly buy from us. 
AutoSmart Advisor
(MyAutoSmart) 
is a 1-year subscription with automatic updates for 1 user.  We do not allow account sharing. 
Features include:
- Access from almost any web browser - Explorer, Safari, Firefox, Chrome.
- Works nicely on iPad with a constant internet connection.
- New Transponder & Cloner Brand info section.
- Regular automatic updates.
- You'll have instant access to information, and best of all...it's amazingly easy to use.
- Here are some of the features that will interest you:
It gives all information you need to service the vehicle. Shows available ASP and Strattec part numbers and labor time.
- Because it's from the creator of AutoSmart you get all methods to make the first key, plus: Code series Key machine setup information Tumbler chart Information on ignition retainers, progressioning, airbags, code locations, key silhouettes, Transponders, valet keys, all parts and model notes. Make your own user notes.
- AutoSmart Advisor does everything instantly and accurately. Now your computer is the best automotive tool you own! Plus, you can now accurately quote a job over the telephone in just seconds using the quick estimate button!
- It would be too difficult to try and remember every tidbit about every car when you could just reach for the AUTOSMART!
AutoSmart Advisor is a 1-year subscription with automatic updates for 1 user.  We do not allow account sharing.


- Requires PC or MAC with live internet connection.
- Supported browsers are Explorer, Safari, Firefox, Chrome
- The screen resolution of at least 1024 by 768 or better is required, larger would be better.
- Sorry multi-user is not supported.
- Software sales are restricted to North American customers only.
- Our software is intended for individual locksmith use and we do not allow commercial use of our software.
- Users can only access it from their own geographical location.
We want every paid user to use our site as a resource for the latest automotive locksmith information. We do NOT allow account "sharing" and your account will be terminated with no refund if caught. 
• This is a restricted product.  
We only sell this product to Locksmiths & Auto
 Repossessors.  
If you are a new customer to us, 
we will require additional information from you via email before we ship your order. 
We reserve the right to cancel your order if we cannot 
verify 
your credentials.